This page is for all Expedited shipping orders for U.S. only and is 100-120v electricity. Alabama, Alaska, Arizona, Arkansas, California, Colorado, Connecticut, Delaware, Florida, Georgia, Guam, Hawaii, Idaho, Illinois, Indiana, Iowa, Kansas, Kentucky, Louisiana, Maine, Maryland, Massachusetts, Michigan, Minnesota, Mississippi, Missouri, Montana, Nebraska, Nevada, New Hampshire, New Jersey, New Mexico, New York, North Carolina, North Dakota, Ohio, Oklahoma, Oregon, Pennsylvania, Rhode Island, South Carolina, South Dakota, Tennessee, Texas, U.S. Virgin Islands, Utah, Vermont, Virginia, Washington, Washington D.C., West Virginia, Wisconsin, Wyoming. Orders for Hawaii must pay sales tax.
We also ship worldwide. International Orders.
This page is for Expedited Shipping. Expedited orders ship within 2-3 days. Richway Fuji Bio Inc. now offers Free shipping. There is no longer a shipping fee for orders to US delivery. If you want free shipping go to our Order page.
Now accepting payment through our shopping cart with Paypal and Amazon Pay. Pay with Paypal, Paypal Credit or any major credit card as well as Amazon Pay. You do not need an account to use a credit card with Paypal. If you still want to order with a credit card and not use Paypal or Amazon Pay, give us a call toll free at 1-877-Bio-Mat-Order (1-877-246-6286) or contact us at Sales.

If you would like to order 220/240v for US shipping please note this in the Comments box and email us after you order to make sure we ship 220/240v to you. Every bio-mat order includes the Bio-mat, 100% cotton padded cover to protect the bio-mat, controller, carry case.
For information on our returns and repair policy or any issues with ordering, see our FAQs for details.
Each Amethyst Bio-mat has an Amethyst layer for transferring natural infrared waves, TOCA (Tourmaline) layer for natural negative ions, carbon fiber and copper fabric layers for Electromagnetic interception, peach and grapeseed fiber layer for heat preservation, and 12 other layers. The Amethyst Bio-mat comes with an advanced IC chip and soft-touch control system, which has many convenient functions.
----------------------

Amethyst Bio-Mat Professional Bio Mat 7000mx

This is the massage-table size Bio-Mat (27.56"w x 72.83"h) for all-purpose functionality and ease of mobility. Great tool for massage therapists and chiropractors, it comes with a hard shell travel case with wheels and handle for ease to carry the Bio-mat, and 100% cotton padded cover. This is an U.S F.D.A. Approved Class II Medical Device.
(shown with Pillow sold separately.)
$100 Professional discount with copy of license. See our FAQs for more information.
Electric Consumption: 160w
Temperature: 35c to 70c / 95f to 158f
$1750.00


----------------------
Amethyst Bio-Mat Single

Measures 39.37"w x 78.74"h. Fits nicely on a twin bed. Comes with single controller, travel case and 100% cotton quilted cover.
Electric Consumption: 180w
Temperature: 35c to 70c / 95f to 158f
(Pillow sold separately.)
$2700.00


----------------------
Amethyst Bio-Mat Queen

Measures 55.11"w x 78.74"h. Comes with dual control to adjust settings on each side separately, travel case and 100% cotton quilted cover.
Electric Consumption: 360w
Temperature: 35c to 70c / 95f to 158f
(Pillow sold separately.)
$3500.00


----------------------
Amethyst Bio-Mat King

Measures 70.87"w x 78.74"h. Comes with dual control to adjust settings on each side separately, travel case and 100% cotton quilted cover.
Electric Consumption: 360w
Temperature: 35c to 70c / 95f to 158f
(Pillow sold separately.)
$4200.00


----------------------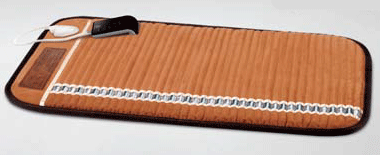 Amethyst Bio-Mat Mini-Mat 7000mx

Measures 19.69"w x 33.46"h. The Bio-mat Mini contains Amethyst and Tourmaline. This is the perfect take-along for trips, to keep at the office or to share with a friend or family member who would benefit from using this therapeutic device and is great to use in easy chairs, Med-Spa, dental & office chairs. Many customers purchase the Mini in addition to the Professional size, and use the Mini on top of them while laying on the Professional. It is also the perfect size for children. Many of our customers have also purchased the Mini-Mat for their beloved pet. The Amethyst Bio-Mat Mini ships with a single dial control panel, hard shell travel case and 100% cotton quilted cover.
Electric Consumption: 100w
Temperature: 35c to 70c / 95f to 158f
(Pillow sold separately.)
$700.00


----------------------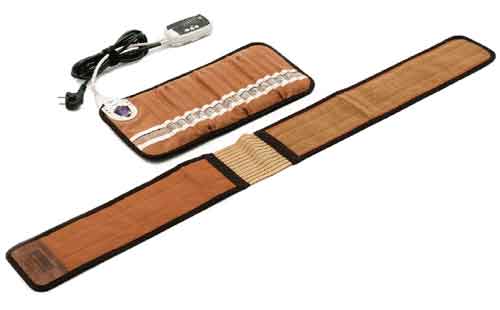 Richway Biobelt

We have carefully selected the most effective semi-precious stones to enhance the power of the Biobelt. The far infrared energy generated from these stones will gently penetrate your body providing warmth and comfort. Far Infrared rays generated from 8 different types of jewels: Amethyst, Tourmaline, Green Jade, Crystal, Citrine, Topaz, Tiger's Eye, and Elvan. Dimensions:
Reg 55.11" x 5"
XL 62.99" x 5"
Regular: Measures 55.11" x 5"
$550.00


XL: Measures 62.99" x 5"
$550.00


----------------------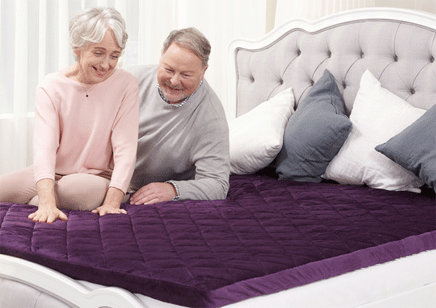 Richway Orgone Bio-mat

Richway Fuji Bio Inc. has discontinued the Orgone King size biomat. All Orgone Biomat orders will be processed based on remaining availability. The Three-Year limited warranty on the Orgone Biomat will be honored. Repair Department will do its best to accommodate any warranty requests for the Orgone Biomat based on stock and available parts. The Orgone Bio-mat creates the perfect space for restful and restorative sleep. The Orgone Bio-mat uses the same technology as the original Bio-mat, but is designed to be placed directly on top of your King sized bed to help you get the sleep you need. It is comfortable, lightweight, and easy to clean. Dimensions:
King 70.87" x 78.76"
$2700.00


----------------------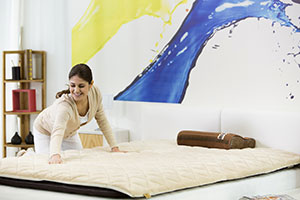 Bio-Mat Quantum Energy Pad

Bio-Mat Quantum Energy Pad composed of environmentally friendly raw materials such as organic compound energy extracted from peach and grape seeds, which is beneficial to the human body's biological vibration. 6 Layer Structure: Microfiber Fabric Cover, Microfiber Layer, Quantum Energy Layer, Liquid Tourmaline Layer, 3D Mesh Layer (20mm), 3D Mesh Cover (3mm).
Measurements:
King: 21.2 lbs / 78.74" x 70.86" x 1.57"; Queen: 17.5 lbs / 78.74" x 59.06" x 1.57"; Single: 11 lbs / 78.74" x 39.37" x 1.57": Professional: 10 lbs / 72.83" x 27.56" x 1.57".
King: Measures 78.74" x 70.86" x 1.57"
$600.00


Queen: Measures 78.74" x 59.06" x 1.57"
$500.00


Single: Measures 78.74" x 39.37" x 1.57"
$450.00


Pro: Measures 72.83" x 27.56" x 1.57"
$400.00


----------------------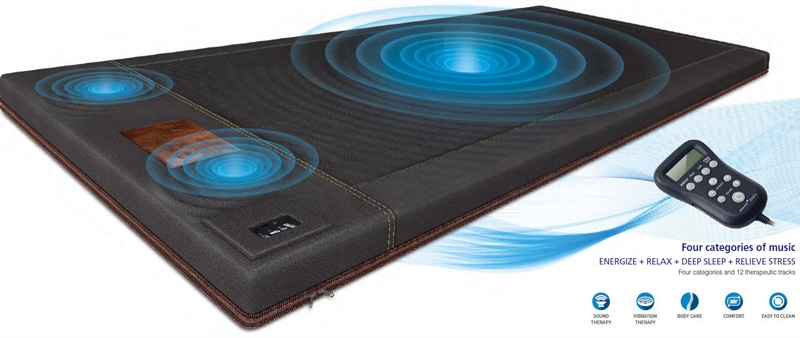 BioAcoustic Mat

The BioAcoustic Mat employs a powerful low frequency sound generator that delivers a deep acoustic massage for joints and tissues. The high-fidelity upper speakers add another dimension of sound therapy to the BioAcoustic Mat. Vibroacoustic relaxation is not just for the brain. It also provides deep physical cellular stimulation to the skin, muscles, and joints. Use the BioAcoustic Mat in conjunction with the Bio-mat for optimal performance. Dimensions:
Professional 73" x 28" x 3"
Single 79" x 39" x 3"
Professional: Measures 73" x 28" x 3"
$1650.00


Single: Measures 79" x 39" x 3"
$2200.00


----------------------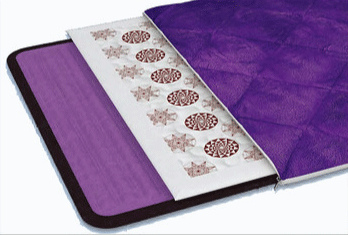 BioAmethyst Cushion

The BioAmethyst Cushion features 17 rows of Amethyst crystals with Peach and rapeseed layer for additional Infrared Rays. Perfect for meditation, office chair, travel and car seat. Lightweight, smooth and soft microfiber cover. Generates no heat and requires no electricity. Dimensions: 18" x 18" x 2.5"
$350.00


----------------------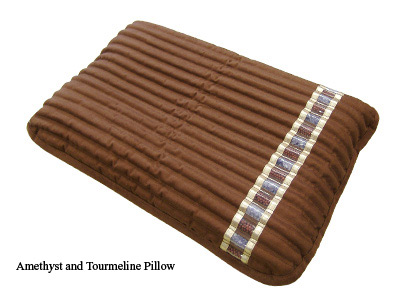 Bio-Mat Amethyst and Tourmaline Pillow

Our Elastic Polyurethane memory foam pillow features a therapeutic shape to provide important neck stabilization to ensure an anatomically supportive sleep posture. Channels of Amethyst and Tourmaline crystals in the 100% cotton zip cover which can be removed and used as a body wrap for chest, stomach, arms, and legs to assist in relief of many ailments.
Measurements: 19" x 12" x 4.3", weight 5.51 lbs
$350.00


"The first week I slept on my Bio Mat, I was waking up after 3-4 hours because I was getting hot. I had the setting at the 2nd green light and 2 blankets, but I wasn't using the pillow. So I took the case off the Amethyst and Tourmaline Pillow and put it under my pillow on top of the Bio Mat, and ever since then I have been getting 6-8 hours of restful and quality sleep each night. The Amethyst and Tourmaline Pillow is a must. I won't sleep without it."
Steve M.
ISA
Sacramento, CA
December 24th, 2005
----------------------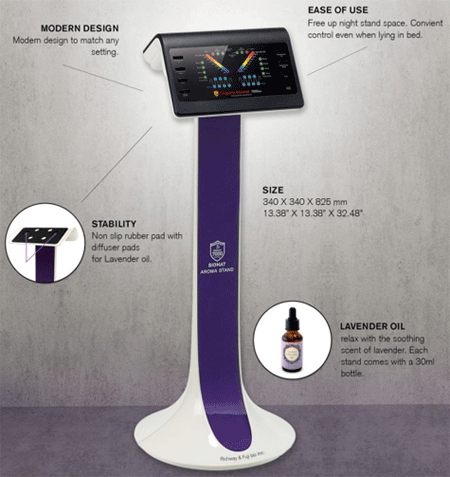 Bio-Mat Aroma Stand

Lightweight and sturdy, position the Aroma stand within arms reach anywhere along your bed to free up nightstand space. Non slip pad with diffuser pads for Lavender oil included (each stand comes with 30ml bottle).
Measurements: 13.38" x 13.38" x 32.48"
$200.00


----------------------
Alkaline Water Ionizer Alkal-Life 7000SL

Water purification and Ionizer system
Voice automated
Creates purified Alkaline Ion water from ordinary tap water
U.S. F.D.A. Medical Device: 300505378
Rated voltage: 120vac
Rated frequency: 50/60 Hz
Rated current: 3 A (5 A max)
Electrodes: Platinum thick-coated titanium electrode 5 pins
Water intake pressure: 0.5-7.0 kg/cm2
Unit weight: 3.5kg
Unit dimensions: 271mm w x 367mm h x 138mm d
Water cleaning cartridge service life: sufficient for filtering residual chlorine from 3000 gallons tap water. (Actual performane may differ depending on water quality)
Electrolysis tank cleaning: double auto-change cross-line system
Protection circuits: 8-A fuse, constant current control circuit, anti-overheating device.
$2500.00


----------------------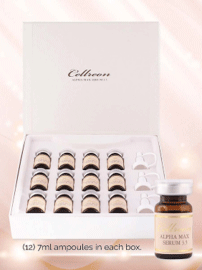 Alpha Max Serum 3.5

Richway has partnered with Cellreon, makers of the finest Korean luxury skincare and beauty products.
An intensive serum to combat dry skin, wrinkles, elasticity, loss of volume, and reduce the appearance of age spots and uneven skin tone due to aging.

(Currently shipping to US address only at this time.)

Key Ingredients: Passionfruit Meristem Cell Extract - A potent antioxidant with collagen supporting qualities; Sericin (silk protein) - deeply hydrates and moisturizes the skin; Growth Factors and Peptides (GFP) Complex - 8 different peptides and 6 growth factors to support natural fibroblast function.
Two Bottles
$120.00


Twelve Bottles
$600.00


----------------------
Detoxi Salt

Richway Fuji Bio Inc. Detoxi Salt is produced from sun-dried salt that is packed inside the hollow sections of bamboo. It is then burnt 9 times for 20 hours at 3000 f. The high kiln temperatures ensure elimination of both, heavy metals and toxins. This process creates a very pure grade of Bamboo Salt that contains lots of essential minerals and micronutrients. It has a high content of Phosphorus, Zinc and ionized hydrogen. Additionally, it has an exceedingly High Oxidation Reduction Potential, making it beneficial for all. Richway & Fuji Bio Inc. Detoxi Salt is a pure high quality nutrient that is very alkaline, helping balance the cellular osmosis pressure, and is not detrimental like common salt. Richway Fuji Bio Inc. Detoxi Salt is very safe. Take 1 packet with 8 oz. water before using the biomat.
One Bottle
$120.00


Three Bottles
$250.00


----------------------