Richway has partnered with Cellreon, makers of the finest Korean luxury skincare and beauty products.

Alpha Max Serum 3.5 is an advanced formula containing Cellreon's exclusive growth factors, peptides complex, sericin silk proteins and passionfruit meristem cell extract for maximum lifting, deep hydration and powerful brightening benefits.

Alpha Max Serum 3.5 is made by ultrasonic extraction methods for purity and maximum potency. Cellreon's trademark nanoization process ensures deep penetration and absorption while preventing microorganism contamination.
An intensive serum to combat dry skin, wrinkles, elasticity, loss of volume, and reduce the appearance of age spots and uneven skin tone due to aging, Alpha Max Serum 3.5 nourishes the skin while maintaining a smooth and youthful texture. No artificial colors, fragrance, parabens, or harsh additives that can be harmful to your skin.
Key Ingredients:

Passionfruit Meristem Cell Extract - A concentrated form of piceatannol, a potent antioxident with collagen supporting qualities to help quickly and safely reduce the appearance of discoloration associated with aging.
Sericin (silk protein) - This silk protein deeply hydrates and moisturizes the skin while toning the appearance of tired skin due to aging.
Growth Factors and Peptides (GFP) Complex - Cellreon's GFP consists of 8 different peptides and 6 growth factors to support natural fibroblast function for rejuvenated and tighter, lifted skin.
Contains two (2) or twelve (12) 7ml ampoules in each box.
Currently shipping to US address only at this time.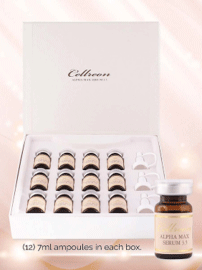 Two Bottles
$120.00


Twelve Bottles
$600.00