I want to help you improve your health, I try to provide the best customer service I can. Please call me anytime or email me with any questions you have, I am happy to answer.
Sales:
Talk live with a Independent Representative (click on button on left side)
or Contact Independent Representative Steve Mullen sales@bio-mat.com
or call Steve Mullen toll free at 1-877-Bio-Mat-Order (1-877-246-6286)
International calls (outside US and Canada, Puerto Rico): 1-877-Bio-Mat-4u (507.246.6284)
Fax Number: 808.597.1651

Address:
Amethyst Bio-Mat
Steve Mullen
PO Box 163511
Sacramento, CA 95816
For repair or service, call the Richway Fuji Bio Inc. Repair Dept. at 808-589-2800
If you experience any problems with this website or when ordering, please contact me and I will fix the issue immediately. Thank you.
On a mobile device? Try our Mobile friendly site
Read my BLOG or visit my Facebook page (become a Fan on Facebook for the latest announcements) or my Instagram page or my Twitter page.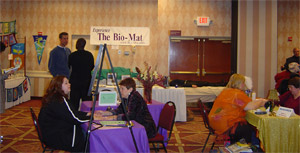 Bio-Mat.com at the Holistic Health Expo in Sacramento, CA January 2006