Due to COVID-19 restrictions, orders may have a slight delay in shipping.

Richway Fuji Bio Inc. now offers Free shipping. There is no longer a shipping fee for orders to US/Canada/Taiwan/Korea delivery.

Canada
Australia
New Zealand
Asia (India, Philippines, Malaysia)
Thailand
Singapore
Indonesia
China
Hong Kong
Korea
Taiwan
South America (Argentina, Brazil, Venezuela, Peru)
Guam, US Virgin Islands, Puerto Rico
Alaska
Mexico
All countries in the EU zone 1 (United Kingdom, France, Netherland, Norway, Sweden, Germany, Italy, Belgium, Spain)
All countries in the EU zone 2 (Switzerland, Denmark, Hungary, Iceland, Estonia, Finland, Russia, Luxembourg, Portugal)
United Kingdom (United Kingdom, France, Netherland, Norway, Sweden, Germany, Italy, Belgium, Spain)
Germany

Order the Amethyst Bio-mat Securely Online or call toll free
1-877-Bio-Mat-Order (1-877-246-6286)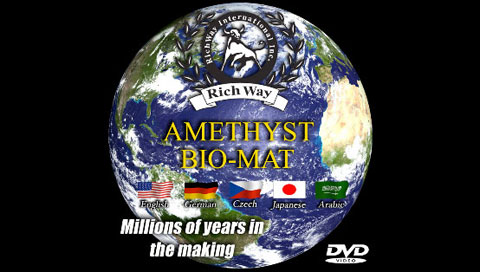 Watch the Amethyst Bio-mat video
"...Hey Steve, I am so in love with the bio-mat because it gives my whole body a source of energized heat, that is much needed after coming down from cold, snowy mountain tops. I feel like my muscles relax so quickly that I wake up in the morning feeling rejuvenated, recharged, and re-focused for a day of training, competing, or traveling......"
Read more biomat testimonials...

Hannah Teter
US Silver Medalist in Snowboarding Halfpipe
2010 Vancouver, Canada Olympic Games (ed. 2/10)
US Gold Medalist in Snowboarding Halfpipe
2006 Torino, Italy Olympic Games
October, 2009
Do you suffer from Minor joint pain and stiffness?
Minor muscle pain?
Joint pain associated with Arthritis?
Minor muscular back pain?
Muscle spasms?
Minor sprains?
Minor strains?
New Product: The Geranium Power Pad 187 Waterproof Cover. This replaces the waterproof cover we offered previously. The Geranium Power Pad 187 Waterproof Cover is made of 100% cotton and geranium. Geranium is similiar to silicon and share many similiar properties. The Geranium Power Pad 187 Waterproof Covers are sweat resistant and bacteria resistant and help protect your Biomat from moisture and odors, and come in 5 sizes: King, Queen, Single, Pro, and Mini.
Latest Product: The BioAcoustic Mat™ uses three powerful speakers to send vibrations deep into your body and comes with 12 soundtracks composed by vibroacoustic expert, Dr. Lee R. Bartel. Combine the BioAcoustic Mat™ and the Biomat® to maximize your experience! Using the two together will give you infrared heat, negative ions, and vibroacoustic sound. The BioAcoustic Mat's™ design allows your Biomat® to fit comfortably on top. The BioAcoustic Mat™ Professional is a perfect fit for the Biomat® Professional, and make sure to pick up a BioAcoustic Mat™ Single if you own a Biomat® Single.
The Richway Fuji Bio Inc. Amethyst Bio-Mat is a high-tech Negative Ion and Infrared Ray treatment system that emits many negative Ions and Far Infrared Rays, which may contribute to a healthy life, a product of modern technology with proven efficacy developed by a highly skilled group of scientists, medical professionals and engineers. Although specifically designed for clinical use, it can function in the home or care facility. The Richway Fuji Bio Inc. Bio-Mat went through many different tests including Electro Magnetic field, and emission power tests. The Richway Fuji Bio Inc. Bio-Mat is U.S F.D.A. Approved Class II Medical Device, Japan FDA Medical Device, Korea FDA Medical Device, CE, CVC, PSE, KMFDS, EAC, GMP, TUV, ISO 13485, ISO 9001, P.L.I. (F-2016-0219060).
As technology has advanced, so has our research and development. These progressions have led to many discoveries, resulting in patents to technologies exclusive to our very own Biomat. Through these discoveries we are now on a path to revolutionize the way people sleep and recuperate at home.
We hope that you will find all our products to be of exceptional quality, and you receive many health benefits as a result of using them. Richway and Fuji Bio Inc. continue to seek enhancing and innovative ways that allow you to live and look both healthy and happy. Richway Fuji Bio Inc. Bio-Mat creates all of our products with cutting edge technology, engineering and methodology to meet your expectations of quality, performance and professional design.
Our most recent creation will bring you all of the benefits of the Bio-mat on a soft and luxurious bedding product. This product is the Orgone Bio-mat. We believe the Orgone Bio-mat will change the lives of many - one night at a time.
| | |
| --- | --- |
| Professional size Bio-mat and Pillow | Richway Orgone Bio-mat |
The gentle warmth of your Amethyst Bio-Mat can give you an overall massaging effect, soothing jangled nerves and knotted muscles.
Get a $100 Professional discount with copy of health practitioners license/certificate.
Get a $100 Military Veterans and First Responders discount with copy of qualifying documentation.
Richway has partnered with Cellreon, makers of the finest Korean luxury skincare and beauty products to create Alpha Max Serum 3.5. An intensive serum to combat dry skin, wrinkles, elasticity, loss of volume, and reduce the appearance of age spots and uneven skin tone due to aging.
"...At this time, everyone in my family uses mine. I sleep on it and they take turns during the day......" Read more...

Sue
May, 2009
"Yesterday I received the Quantum Energy Pad Queen size and put it on my bed on top of the bio-mat. Wow!! Now it feels like I am sleeping on my mattress again and not the floor...." Read more in our bio-mat testimonials...

Steve M.
ISA
Sacramento, CA
May 2014
Thanks for visiting our site!
Download for free "The Fourth Treatment for Medical Refugees" book. Written by Nobuhiro Yoshimizu M.D. Ph. D, Nakamachi Garden Clinic Director, this book discusses Thermo-therapy, the fourth treatment option. Get the pdf here free.
Substantiated by the Nobel Medical Committee

Press Release: October 7, 1991. The 1991 Nobel Prize in Physiology or Medicine. The Nobel Assembly at the Karolinska Institute.
The Nobel Assembly at the Karolinska Institute has decided to award the Nobel Prize in Physiology or Medicine 1991 jointly to Dr. Erwin Neher and Dr. Bert Sakmann for their discoveries concerning "the function of single ion channels in cells" Read more...
The Amethyst Bio-Mat has undergone many studies to find out its effectiveness for healing. These have occurred privately at hospitals and more.  These studies cannot be used due to our FDA status.  Yet The FDA has proven that the Amethyst Bio-mat produces Far Infrared in the way Richway Fuji Bio Inc. has claimed. It has also proven that the Amethyst Bio-mat produces negative ions in the way that Richway Fuji Bio Inc. claims. The FDA has recognized, as well as other medical associations and establishments, that both Far Infrared Light and Negative Ions have a measurable effect in assisting the human body in both healing itself from injury, etc. and maintaining itself in states of health. Read more in our bio-mat FAQ's...
Just wondering what this FDA registration actually means - is it very easy for anyone to get on a product?  Does it make the Bio--mat a more credible health solution than alternative health solutions that are not medically proven? Is the Bio-mat medically proven? U.S F.D.A. Approved Class II Medical Device. It is definitely hard to get in terms of working towards applying and receiving it and then to follow the guidelines of the FDA once received. Yes it makes it more credible. Other devices or especially mats do not have this, they are not willing to go through this process, and this states to people that we are not trying to hide anything, we know it works, we have backup to prove that our device does what we says it does. Read more in our bio-mat FAQ's...
Are there any contraindications for using the bio-mat? It is recommended to consult with your physician before the use of the Bio-mat. Remember to stay hydrated while using the Bio-mat.
We have a list of contraindications on our bio-mat FAQ page. Read more in our bio-mat FAQ's...
"...The day we got the mat and I lay on it. I felt my lungs get really warm,..." Read more in our bio-mat testimonials...

Bill and Jan
Big Sur, CA
May 2007
| | |
| --- | --- |
| The Richway Fuji Bio Inc. Amethyst Bio-Mat is a unique innovation in bio technology containing 17 different layers and is available in 5 different sizes. | |
EMF (Electromagnetic Fields) is a term used to describe the invisible electric and magnetic fields radiating from all electrical appliances in the home, office, factory, in vehicles, and train lines. All Bio-mat products have been tested by TUV SUD for EMF (Electromagnetic Fields) and were found to be in compliance with IEC 62233 (ed. 1) and EN 62233:2008.
Unlike an electric blanket, the bio-mat pad does not get hot when it is on. An electric blanket or electric heating pad uses electric current with wires or coils which run through it which is not healthy. However, when you lay down on the Richway Amethyst Bio-Mat, it warms the inside of your body, and the part of the pad making contact with your skin gets warm. When any part of the pad gets higher than the selected temperature, the sheet current is cut off by thermal sensors distributed throughout the Bio-Mat, and the Negative Ions turn on, the temperature light goes off and lights at the bottom tell you it is creating the Negative Ions. The Amethyst Bio-Mat is a power heated mattress pad. It comes with an external control box where the AC is converted to DC, and you can adjust the desired temperature of the pad. The Amethyst Bio-Mat controller has EMI (Electromagnetic Interception) which blocks the harmful EMF (Electromagnetic Frequency), as well as a Timer so you can set it to turn off in 2, 4, 8, or 12 hours settings.